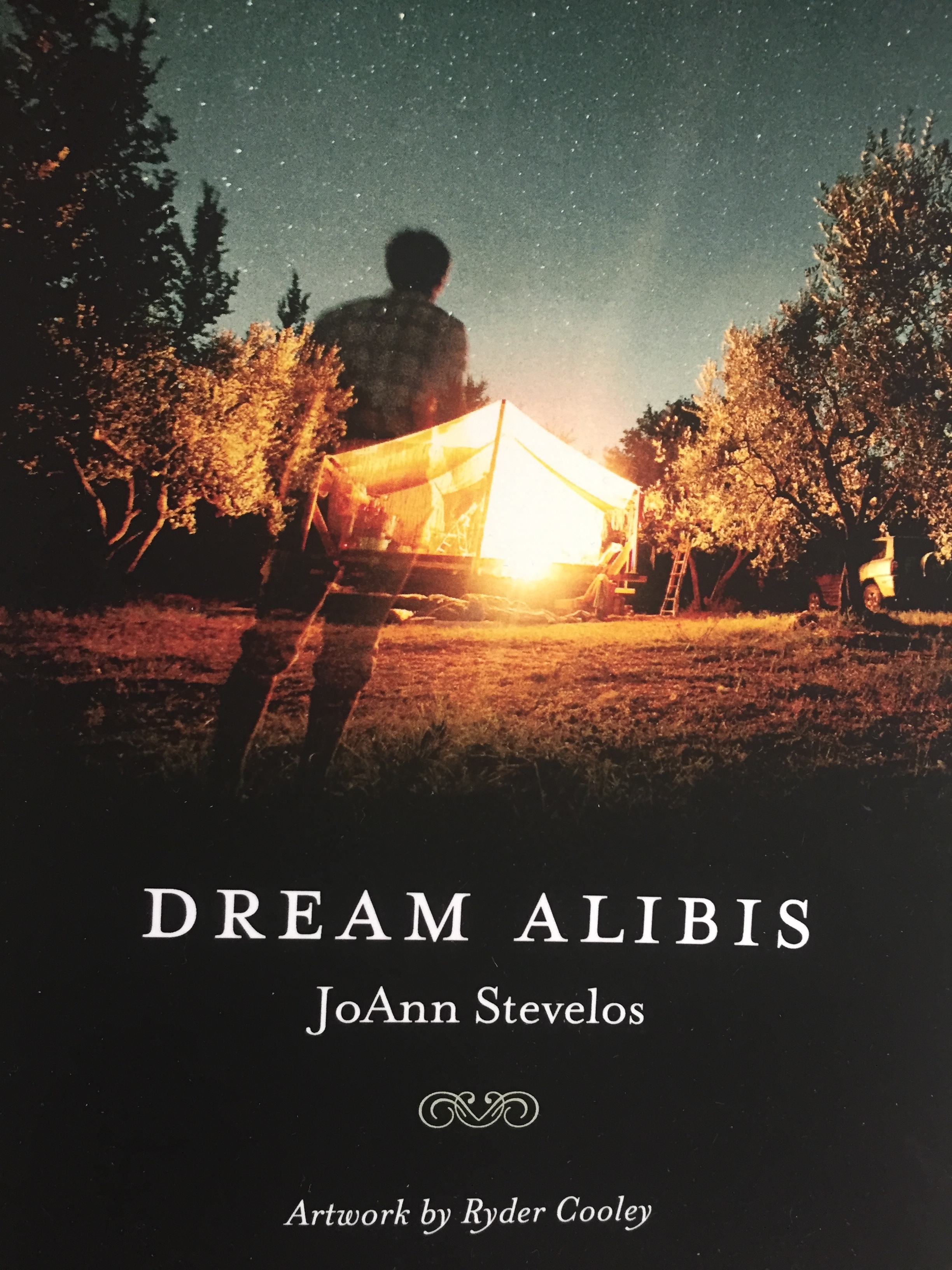 Dream Alibis is both a collection of poems and a play called Little Red Wagon. Ryder Cooley's intriguing illustrations bring a deeper sense of meaning to the Dream Alibis poems, an assemblage of fragmented narratives about finding hope in the aftermath of estrangement, lost love, loneliness, and emotional abuse. The poems segue into Little Red Wagon, a play about a family that has created a temporal divide from a political activist'sdeath by suicide to the present and explores the layers of grief that tethers the family to one another in conspiratorial silence. Written & published by JoAnn Stevelos with illustrations by Ryder Cooley, Photography by Noah Fowler, and Book Design by Mika Dmytrowska.
Goodreads Reviewer Such an elaborate yet brief and impacting collection of poems. It took me some time to understand some of them but I was more than willing to absorb every word and understand it's meaning as it struck hard into my heart when I caught on. Particularly, "Bells", "Even", and the short play "Little Red Wagon" lingered in my mind as I processed its poignant significance. The conflicts presented in the "Little Red Wagon" play is something that should be addressed considering with all protests, marches, and organizations aligned against the despairing turn of events in political, economic, and environmental changes that not only affect society as a whole but also individually. Sigh I wish this book was longer. Thank you, Stevelos and all others who partook in this collection of poems, it's a beautiful piece of art!
♦—Favorite Quote—♦ •"Love requires so much more from us than we ever realize—and if we do finally figure out what someone really needs from us—it's usually too late." ~Walter
Review by Sara Ayers, Editor, Nippertown Children learn the history of their families through stories, told over and over: "That's how your parents met." "That's how we lost the house." "That's why I left your dad." But as time passes and the child grows up, the stories inevitably become more nuanced, as the child detective gains both more details and and better insight into human motives. Perspectives shift and actions acquire more gradations. JoAnn Stevelos' new book Dream Alibis delves into this phenomenon in a subtle journey that explores the bonds that both unite and divide families.
In the prologue, she lays out her themes – dreams as an alternative to reality and alibis as a skirting of guilt – and then launches into 13 short poems, illustrated by Ryder Cooley's plaintive drawings, that fearlessly examine tiny junctures of grief and self-deception, now viewed from a wiser, more mature distance. Stevelos has a knack for distilling these crystalline moments of loss, sometimes surreal, sometimes achingly straight forward.
"Walk Along the Edges" is a dream-like telling of a pregnancy and birth, complete with squabbling siblings, a shirking lover and red pine trees as a supporting character. In "Bells," a breezy account of a rainy day spent looking at old photographs abruptly comes to a rueful conclusion: …our two grins as wide as wide as the bells ringing inside me whenever you come near Bells ringing so loud that I will never believe you can't hear them too.
The short poems in the first half of the book set the stage for the second half: "Little Red Wagon," a play told in a series of vignettes that focus on the secrets that families keep through misinterpretation, pride and shame. Lucy is a young woman approaching her 20th birthday. Her grandfather Ezra and father Walter debate whether to give her a letter from her mother, Attie, who committed suicide some time ago, but left the letter to be given to Lucy on that day. Their arguments and recriminations reveal a large gulf between their respective memories of Attie, both as a political activist and as a loving mother. The play is written with two alternative endings that reveal different motives for the suicide, both completely plausible, reinforcing Stevelos's theme that another person's inner world is ultimately unknowable.
Sometimes wrenching, sometimes hopeful, Stevelos' understated writing serves as a compassionate beacon, illuminating the dark corners of complex family relationships. It's a gem of book that rewards close reading. The book is available through Amazon.com.
By Betty Fon July 12, 2017 Format: Paperback This is not a book but a wistful experience that artfully combines audio and visuals, poetry and play. To fully immerse yourself in this experience, you will need to do some preparation. First, you will need to choose two scenes. For the first part of this adventure please choose a place where you can welcome your old friends, nostalgia and longing, with a dash of tears here and there. I recommend propping your back against a willow tree by a lake (note the site, Albany) so that you can read JoAnn Stevelos's dreamlike poems while guarded by solitude. "Come as a child to me Come, climb the willow Where I built my fort to wait for you"
Take deep breaths. ("I inhale. You exhale.") You will pause in meditation after each poem, grabbing onto the sorrow, yearning, grief or regret fleeing the poems yet so disturbingly well captured by Ryder Cooley's carefully crafted, eerie drawings. There are birth, love and loss - life - weaved into pensive, pristine words.
For the second part of this adventure, take yourself back to civilization: a bustling, noisy, and underlit cafe where patrons may linger for hours and regulars are recognized by name. Stevelos conjures up the image of the Hungarian Pastry Shop on the Upper West Side. Imagine the history of lives there. So if you are a lucky New Yorker, please get your ass there to immerse yourself into the play Little Red Wagon. Put the following songs on your playlist for the experience: Dust Bowl Faeries "Polar Bear," Kyle Esposito and Meg Johnson's "For This World," Bob Dylan's "Little Red Wagon" and Todd Nelson's "Crestfallen." Your imagination will be then walked through a tragic family story and invited into two endings highlighting distinct social problems: the price of activism and birth.
I highly recommend this little gem of an experience that will surely leave an imprint in your heart and mind.